On March 2nd, 2017, I decided to be wrong.
More concretely, I decided to give up being right for Lent. I was motivated by several different things, both abstract and pragmatic. There was my frustration with what I see as a potentially fatal barrier to productive discourse in American society today—widespread self-righteousness—and my desire to change it. There was my interest in how philosophical concepts like self-doubt and self-righteousness interact with religion. And there was my identity as a translator.
Wait, you may be thinking, what does being a translator have to do with any of this?
Well, I'm glad you asked! This is a translation blog, after all. And my view is that a healthy, consciously wielded self-doubt sits squarely at the heart of the translator's best practices.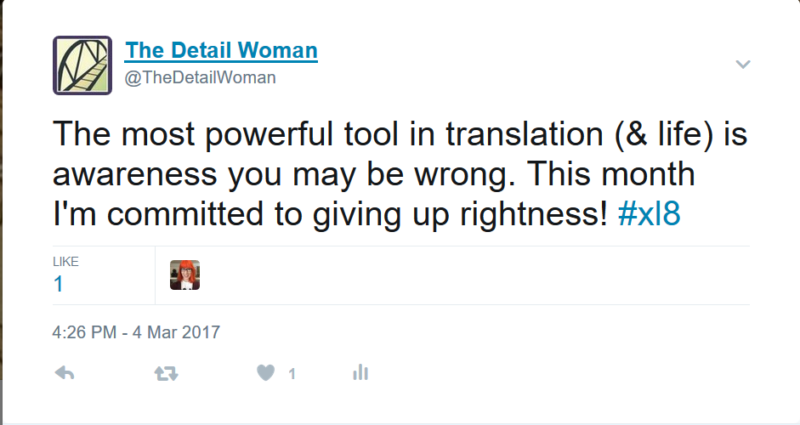 Less than a year after I turned translation from my hobby into my profession, I was put in charge of reviewing other anime translators' work. I was so young—just 23!—and so unestablished that this was a pretty shocking development. I mean, I knew translation was the career for me, but I didn't think I'd already achieved unparalleled genius in the field or anything. I'm sure that if any of the people whose work I was correcting back then learned my age, they were quite shocked too, if not actively offended.
As it turned out, the fact that I didn't think I'd achieved genius is exactly what made me a good reviewer. In the beginning, when I looked at a translation of anything more complex than sentences like "Please" and "Thank you," I'd try to verify, because I didn't trust my own authority over the other translators' in any inherent way. I looked up words. I looked up all the words, including the words I already knew. I reread my grammar books to make sure I wasn't misremembering obscure usages. I asked my mentor when I wasn't sure I'd figured something out correctly. And I rapidly discovered that this is exactly what the people whose work I reviewed weren't doing, and therefore the work was riddled with errors. And so I learned that the self-doubt I felt wasn't just "beginner's jitters" that more time in the career should alleviate. Instead, it was the most powerful tool a translator can have at her disposal. When we know how easily we can be wrong, we take the steps to try to be less wrong. It might take a few days of bravery to really internalize that you're constantly teetering on the edge of wrongness, but once you get there, it's not only empowering: it's an enormous relief.
You can't be both a good translator and a self-righteous translator. It's just not a thing.
Human fallibility, on the other hand, is definitely a thing.
So in the last couple of years, as I've seen self-righteousness overcome more and more of society in our religious, political, and social conversations and realized how little we are willing to listen to each other from that place of "healthy, consciously wielded self-doubt" so that we can truly understand and solve problems, the more I've thought that this wrongness principle should apply outside of translation. It should apply to our lives across the board: humans are fallible, which means we could be wrong in our convictions at any time. My premise, then, at the beginning of my Lenten experiment was, "You can't really see the truth about anything until you acknowledge that you might not have looked at it properly yet."
Since I want to see everyone practice this, I started by trying to practice it myself. I wrote several friends-only follow-ups on Facebook throughout Lent, and promised to write up my notes on the whole experience at the end… which is what I'm doing now.
So, how did it go and what did I learn?