Apologies for the delay in the next installment of the emergency series–I have not forgotten about it, I promise! It just turns out tech-related emergency planning takes a lot of research. But, speaking of technology and emergencies, here's a Tech Emergency Quickie for memoQ users!
Do you have all your term bases and all the little hacks to your TEnT tools/CAT tools backed up? (And your invoices? See Backing Up Your Records in TO3000 Version 10; the first half of that post also applies to Version 11.) I've gotten pretty good about backups, but there are always a few little things that I miss for my memoQ setup. Term bases? Check. TMs? Check. Light resources? …Well, shoot, I didn't think of that!
Luckily, others can learn from my mistakes. If you, too, hate having to figure out complicated "memoQ Web Search" settings and whatnot for each new computer, read on. These are more complicated to back up than you might think, but it can be done!
memoQ's light resources are basically everything you can tweak in memoQ that isn't a TM or term base (see this link for details). The first thing you need to know is that backing up memoQ light resources does not work the way you think it does.
I've always found setting up memoQ Web Search to be a pain in the such-and-such, at least for Japanese. So when I realized I hadn't backed up the settings I created and transferred them to this computer, I initially panicked. Wait, I thought, I still have the old computer! I'll copy them to my Dropbox, and that will be that!
If only it were that simple.
Unlike other memoQ resources, simply copy-pasting light resources to the appropriate folder on your new computer will not work. You cannot simply click "import" or "register local" and find them. memoQ on your second computer will not recognize these files, even though they worked just fine before. No, my friend, you must "export" them from your first computer before backing them up or trying to use them on your second computer.
This should work basically the same way for any light resource, but I've got web search on the brain, so I'll give you an example with that. Let's say you have a computer right now that you've created web search settings on, and you never want to have to create those settings again. To back them up, go to the Resource Console. Seriously, go right now. Click "Web search settings," and you'll get to this screen: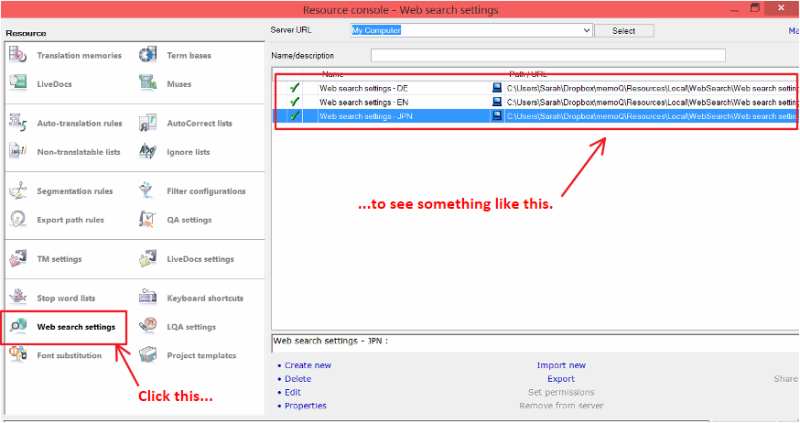 Click on the setting you want to back up to highlight it–in my case, the Japanese one. Now, click "Export."
You'll see a save dialog box pop up, and you can save your .mqres file anywhere you want. Save it somewhere you'll remember. This is the file you want to back up! Not the .mqres file with the same name that you're currently using in memoQ, but this seemingly identical "exported" file.
The reason is that, as I discovered when I submitted a ticket to Kilgray, this file is not quite identical to the first one:
Dear Sarah,

Thank you for your email. In case you would like to copy only certain light resources, like the web search settings you sent, then the simplest way to do this is as follows:

– Open memoQ on the computer where you are copying from
– Navigate to Resource Console -> Web search settings
– Select the web search settings in question from the list
– Click on the "Export" link
– memoQ will export the web search settings to mqres format
– Copy this mqres file to the other computer
– Open memoQ on the computer where you are copying to
– Navigate to Resource Console -> Web search settings
– Import the mqres file you exported from the other computer with the "Import new" link
– The web search settings will appear in the list (when you received the error message, your current mqres file was most likely not exported but only copied from Resources\Local\WebSearch\ to the other computer and in this case no unique identifier is generated for it and memoQ cannot import it on the computer where you are copying it (when you export the resource with the "Export" link memoQ writes a unique identifier to mqres file, so it can be imported on other computers as well))

I hope this helps.

Best regards/Üdvözlettel,

[name]
Support Engineer
And lo and behold, that is exactly what works. Once you've got that file you exported on your second computer, navigate to the same place in the Resource Console, and simply click "import" instead of "export." You will be able to import your backed-up file. If you do not export the file first, you cannot import it. You will get an error message when you try.
Now, if you get really paranoid like me, you can also upload light resources to your free account on Kilgray's Language Terminal, where they shall hopefully remain available to you even if all of your hard drives explode at the same time. To do so, create a free account if you don't already have one, sign in, and navigate to Resources:

From here, you can upload your backed-up light resources files… if you've exported them. Just like memoQ itself, Language Terminal hates files you haven't exported. If you try to upload your non-exported .mqres file, you will get the incomprehensible error "Please select a .mqres file to upload."
When you upload, you can even select "share" to allow others with Language Terminal accounts access to your light resources. I did this for my Japanese web search settings, so if you'd like a Japanese web search to start out with instead of making yours from scratch, click here! It's free!